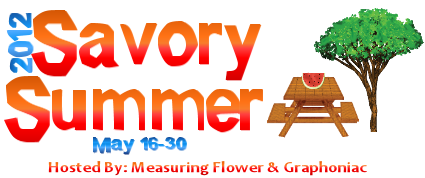 Welcome to the Savory Summer event hosted by
Measuring Flower
&
Graphoniac
! There are 61 other blogs participating, so be sure to use the Linky below to hop over to another blog after you enter here. The event ends at 11:59pm on May 30th, so you have plenty of time to enter.
What is the Savory Summer Event?
Each participating blog (found on the Linky) has food-related giveaways worth at least $25 and many are worth much more!
Our incredible
grand prize sponsors
for this decadent event are
Nostalgia Electrics
and
Ella's Kitchen
, who are offering prizes worth over $100 each! You can enter to win one or both grand prizes
HERE
!
We have worked hard to get 2 awesome giveaway packages for our readers at Children Teaching Mama and I'm so proud to work with these companies!
So are you ready to see what our giveaway packages include?
About:
FITzeeFoods is dedicated to providing quick, fresh all-natural meals that nourish their mind, body and soul.
Prize:

$50 Gift Credit & Free Shipping
(Can be delivered or be scheduled for pick-up at several locations in and around San Diego, California)
About:
Frank's RedHot
was created in Louisiana by a pepper farmer and Jacob Frank. They were seeking to create a sauce perfectly spiced with the rich cayenne peppers flavors.
Prize:
Frank's RedHot Gift Package
This gift package includes a variety of Frank's RedHot Sauces to help spice up your summer cookin'!
a Rafflecopter giveaway