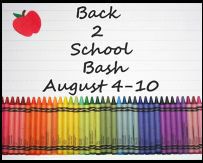 We've participated in many different themed giveaway events in the past, but never a Back-To-School event. This year we jumped on this opportunity immediately!
When:It will run from 12:01am EST Saturday August 4, 2012 through 11:59pm EST Friday August 10, 2012.
Rules of Participation:
You must get at least a $25 prize/package together to be given away during the event. It can be anything school related. (Ideas: snacks, lunch box, backpack, labels, school supllies, etc.)
You must display the event button in your sidebar from now until the event ends
Participation is completely FREE! All you have to do is make sure the button is on your blog side bar, and write a post encouraging other bloggers to join in the fun! Put the link to the blog post in the form.
If you would like to participate in a GRAND PRIZE CASH GIVEAWAY, you can send $5 (gift) to tristaeanderson05@gmail.com via PayPal. This will get you TWO social media entry options! (Facebook, Twitter, Google+, Email, GFC, Pinterest, Klout, etc.) The GRAND PRIZE CASH value will be determined when we know how many people are going to participate in that part of the giveaway. The GRAND PRIZE CASH GIVEAWAY will be hosted on Anderson's Angels, MomVantage and Mommy of One and Counting. We ask that you refer your readers to either of those two sites to enter the CASH GIVEAWAY!
**They are only accepting 50 blogs, so this will not be open very long. Hurry and sign up today! We already have our first sponsor, so can't wait to see all the great items we'll have for you. Let me know if you are participating. :)
Click HERE
to sign up!