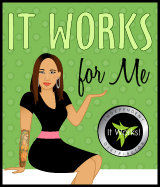 I first came across
The Skinny You
selling
It Works!
products during a giveaway for an Ultimate Applicator. All of the ladies were fighting to win it, but I had no idea what "It" was and what "It" did! I
had
to learn more about them asap.
About It Works!
It Works! is a company specializing in high quality all-natural supplements, exclusive anti-aging solutions, and the very popular Ultimate Applicator Cosmetic System. They work to bring the consumer life-changing products with their principled approach to business practices and product development. Their second passion is to change lives financially.
Mark and the It Works team collaborated with business experts across the United States to create a rewarding multi-level marketing plan that would give real people the ability to gain financial freedom.
About The Ultimate Applicator
Expect "ultimate" results with this amazing 45-minute body Applicator! The Ultimate Body Applicator is a non-woven cloth wrap that has been infused with a powerful, botanically-based formula to deliver maximum tightening, toning, and firming results when applied to the skin. Ultimate Body Applicator continuously hydrates for firmer, smoother, more youthful-looking skin and reduces the appearance of cellulite and skin slackening. See results in 45 minutes.
My Thoughts
When I hear about products claiming to help you lose weight in days, I think, "Yeah, Right!", so you can bet I was skeptical when hearing I could lose inches off of my waist in only 45 minutes. There's just no way, right? WRONG! There's a reason why so many people love the Ultimate Applicator... because It WORKS!
I lost all of my baby weight (finally) last year and am at 115 pounds, but I still have loose, stretched out skin around my belly from Josiah the 9lb baby! I also have some love handles around my sides that weren't there before. I wasn't sure what would happen, so I put on the applicator and waited impatiently. You are supposed to leave it on at at least 45 minutes, but can wear it for much longer, which is what I did. I wore it for about 5 hours and couldn't wait to measure. I had lost .5 inches around my waist and, after a few more hours, I checked again and it had gone to 1 inch!! 2 days later I checked again and I had lost a total of 2 inches. Incredible!
As if this product weren't already amazing enough, it's ingredients are all-natural, which is why it does what it does. It's really pretty much healing your skin at the core and the effects last for 2-6 months! I'm really excited because the stretch marks around my belly button don't look half as visible and ugly. They skin is definitely tightened, softer, and just looks healthier. Now I know why people love these products.
In addition to the Ultimate Applicator, It Works! also has
Chin & Neck Applicators
and
Facial Applicators
, which tighten skin in those areas, give a more youthful chin contour and to revitalize skin. I really can't wait to give these a try, too. No doubt in my mind they work just as well.
Buy It
Win It
The Skinny You is one of my Blog Bash sponsors and this giveaway prize is part of the awesome all-natural giveaway prize package for Blog Bash! One Lucky CTM reader will win:
(1) Facial Applicator (

an all-natural facelift!

)
(1) Neck/Chin Applicator (

tighten & tone

)
(1) Ultimate Applicator (

takes off inches in minutes around waist

)
Extra Entries
These entries will be added in with the Blog Bash Official Giveaway Entries! Please be sure to include your email address in at least one of the comments so I know how to get in touch with the winner.
Now that you are finished with these 3 extra entries, hop back over to the
Blog Bash Official Giveaway Post
to complete even more entries. If you've already finished those, go back to take a look at the official Blog Bash linky (at the very bottom of the post), which will link you up to all of the other participating Blog Bash blogs! Good luck and have fun!!