Welcome to Week 1 of Friendly Debates With The Danielles!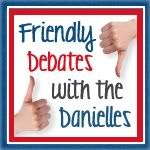 My th
We do have a few rules… or rather guidelines… that we would appreciate being followed:
1.) Please follow the hosts via GFC:
Danielle B.
&
Danielle H.
2.) If you link up please leave a comment so we can visit you.
3.) This is a meme, so you MUST answer the question in a blog post.
4.) Link directly to the blog post in which you answer the question.
5.) Grab the button and place either in your post or on your blog.
(You can find the html code in my right side bar).
6.) At the end of your post leave a suggestion for the following weeks topic.
If we choose your suggestion you will be mentioned and linked to in the following weeks post.
AND THE MOST IMPORTANT RULE
Please respect each others opinions. This means no bashing of other bloggers in comments on their posts. Kind words and genuine questions are encouraged. If you strongly disagree with someone else the place to address your view point is in a post on your own blog. If we find that you have blatantly disregarded this you will be removed from the linky.
TOPIC
"Adult Only Wedding Receptions – Yay or Nay? What do YOU say?"
MyThoughts
As a Mama, I know most of the time I wouldn't be able to go to a wedding reception without my kids, so I'd just have to opt out. Babysitters are expensive, especially with more than one kid. Plus, I look back at our wedding and I can't imagine it without all the kids, my nieces, nephews and others, being there. Children love weddings- the dancing, cake, all the people! I remember being a child and getting to dress up in party dresses for weddings and I felt like a princess. Who would want to rob a child of something so special? Plus, I love watching all the children at weddings and the things they do. It's so hilarious to watch them dancing, sneaking foods, running around, and just being kids. I don't know if a wedding reception would be the same without kids.
What do you think?