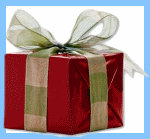 I'm proud to announce Children Teaching Mama's 1st annual Holiday Gift Guide! From November 14th-December 24th, many, many wonderful gift idea reviews and giveaways will be posted. More items may be listed so, keep checking back to see what's new!
Click on each of the catagories below to see some awesome gift suggestions for the 2010 holiday season! For those without review links, that means those reviews and giveaways will be coming up in the very near future!
Enjoy the event! I will be making a link for the gift list on the navigation bar for easy access, too!