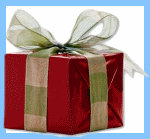 Rent The Runway's online service
allows you to rent beautiful dresses and pieces of jewelry at a fraction of the original cost. Choose from all the most popular designers for a special event, holiday party, or night on the town.
Eat. Drink. Play. is the Dave & Buster's motto and it suites them perfectly. Have a delicious dinner and a drink, then go play games and billiards for the rest of the night. Children and adults alike will love a Dave & Buster's Gift Card! Also, book your holiday party now and save big.
Since 1909, Tillamook Creamery has been making delicious dairy products. Their cheese is the perfect additional to a holiday gift basket. Pair the smoked cheddar with crackers and summer sausage for a great appetizer!
Skoy cloths are absorbent, reusable, machine washable, clothes that have multiple uses. These biodegradeable cloths make clean-ups easy and they come in fun prints, including holiday prints!
Softlips is introducing their limited editional seasonal lip moisturizers for the holidays! These flavors include Sugar & Spice, Sugar Plum Berry, Winter Mint, and Sugar Cookie. These will make perfect stocking stuffers.
Febreze has come out with the perfect wooden diffuser for families with children. It makes your home smell delicious and is spill-proof! What more can you ask for?
Themed with one of children's favorite storybook characters, The Very Hungry Caterpillar. Natural ingredients ensure safety for sensitive skin. The bubble bath formula smells great and makes lots and lots of bubbles! The kids will love these items!
Need a great present for a pet-lover? The Kritter Kondo is an extra-large enclosure for small pets. Set it up outside and let pets run around and enjoy the outdoors without worry of them running away or getting hurt. It's easy to set up and very compact.
Beautiful personalized ornaments for your family. Choose from hundreds of options and add names and dates to mark special years and occasions. Check out the photo ornament section for adorable frame ornaments. These are perfect for your children's pictures. Just imagine your tree filled with these!