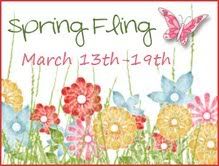 Just in case you missed the first announcement, the Spring Fling Blog Hop will begin in one week from today! Children Teaching Mama and 9 other blogs are working together to bring you a great variety of giveaway prizes from March 13-19th!
Each blog has their own theme and mine is:
Starting tonight I will be posting my sponsor reviews and early entries for the giveaway package. My package is worth well over $300 and continues to grow!
So, without further ado, I am about to start posting the reviews and giveaways of sponsors. The entries are early entries and will be applied to the entries during the Spring Fling. If you have any questions at all, feel free to email me at childrenteachingmama@gmail.com