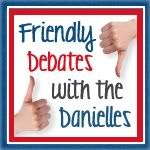 Each week Danielle from Happenings of the Harper Household and Danielle from We Don't Have It All get together for a friendly debate! Their subjects are fun and sometimes controversial, which is something I enjoy! Have a blog? Feel free to link up, too, and share your own opinions. Everyone is welcome, but keep it nice. :)
Click here
for all the rules.
So, this week's topic is...
Vaccinations: Yay or Nay?
I'd like to say this is something I strongly oppose. Part of me does, but the other part also recognizes the benefits. I have read the millions of articles online, all of which are confusing and sometimes misleading. It was enough to scare the heck out of me. I asked questions and my doctors all looked at me like I was crazy. I knew we needed a different pediatrician who would respect my decisions and listen to my requests, so we have a new doctor now.
OUCH!
Josiah has had most of his vaccinations. He was a healthy boy from the get-go. I felt confident that his system could handle vaccinations and the ingredients they contain. I did, however, opt out of several, including Chicken Pox and Flu because I believe they are unnecessary. I have NEVER had a flu shot and NEVER plan on injecting my kids with something I feel is unwarranted. Now, with Liam, a preemie with health issues and Neurofibromatosis, I am much more concerned about how well his system could take vaccinations. The only vaccines he has had were given when he was born. Since then, I have opted not to update him on them.
I have no plans to vaccinate any time soon and, since the kids will both go to a private school, they are much more lenient about what is required. They didn't mind one bit that Josiah isn't up to date before starting. No forms, no letter-writing! That's how it should be. Also, you can order vaccinations without certain ingredients, too (formaldehyde). I had Josiah's special ordered and had to pay $20 extra, but, in my opinion, it was totally worth it even if just for my peace of mind.
So, as you can tell, I'm a little torn as to how I feel about vaccinations. I can see why families do vaccinate children, but I do think it's best to be educated about them, which ones are most needed for your children, and which ones you could possibly do without.
Do you vaccinate? What's your opinion on this subject?