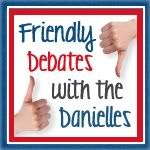 Each Sunday evening Danielle from "We Don't Have It All Together, But Together We Have It All" and Danielle from Happenings with the Harper Household will host this awesome meme. There will be a question each week that will require you to think about how you feel about a certain topic and to decide where you stand regarding that topic, then of course share those thoughts!
Click HERE for all of the rules and regulations!
This week's topic:
"Circumcision: Yay or Nay? What do YOU say?"
I say NAY to circumcision! I had this done to my first son and saw what a barbaric practice this really is. It's not necessary and puts baby in so much pain. Every time they use the bathroom, they scream. Every time you give them a bath, they cry. It's hard to watch and I learned my lesson. I couldn't stand to ever see my little boys in so much pain again due to my own decisions.
When Liam was born he was not circumcised. Family members asked repeatedly when we would get the deed done and I kept telling them we weren't going to do it. Questions and more questions, but we stood with our convictions and Liam is not circumcised. At two years old, he is a happy healthy boy. We've never had any infections like they all said we would. He's never had any issues and never had to be in needless pain either. My husband didn't need much convincing of this, as he knew the facts, too... and medical evidence points to the same thing I believe- there's no evidence that circumcision is needed.
So, what do you think?