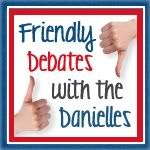 It's that time of the week again! Time for a friendly Debate during "Friendly Debates with the Danielles". Danielle from Happenings of the Harper Household and Danielle from We Don't Have It All hold a weekly meme dedicated to providing fun and friendly debatable subjects. I always look forward to the new week's debate. Who knows what it will be.
Have a blog and want to participate? Click
HERE
for all of the information. You can link up with everyone and meet some other great bloggers, too. Don't have a blog? Leave a comment with your own opinions below. I love reading them!
Here's this week's topic:
Birth Control For Teenage Daughters: Yay or Nay? What do YOU say?
Who hasn't thought about this subject. Even before I had children, I have been very open about sex and sexuality even with my friends. Heck, one of my best friends wanted to become a sex therapist, so it's something we often talked about. I was a very sexually inquisitive teenager and had so many questions, but it was something my parents would NEVER talk about. To even think about it was taboo and, to my parents, a sin. How could I even consider having sex before marriage?
Just like a typical teenager, I took matters into my own hands and began experimenting. Luckily, I was smart enough to use contraception and my best friend's mom got us birth control. Having been a teenager, I remember all too well the hormones that surge. For that reason I will always, always be upfront with my children about sex. Whenever they ask, I will tell them.
I think my husband feels the exact same way. Being a juvenile prosecutor in our town, he's seen so many teenagers get pregnant just because they didn't have protection. We've both seen how important it is to have the sex talk and let the kids know they can come to us if they have questions. So, I would absolutely let my daughter get birth control and/or other types of contraception. I would even talk about an IUD, especially if she had periods and cramps like I did as a teenager.
With all of that said, we have boys, so unless I manage to have a little girl next time (crossing fingers!!:), we won't be talking about the pill. Rather, we'll be talking about respecting young ladies and using other types of protection.
How do you feel about having The Talk? Would you let your daughter get birth control?