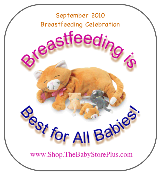 I just wanted to let you guys know about a great event coming up! Along with all the great events going on at Children Teaching Mama in September (1st Birthday Event & Blogmania), The Baby Store Plus Blog is hosting a wonderful event called
Breastfeeding is Best for All Babies
! As I learned when having both of my boys, breastfeeding can be very difficult and frustrating, specially for first-time Mamas! All month informative articles about breastfeeding will be posted and there will be many wonderful giveaways as well! Believe me, you will want to check this out! Plus, the grand prize is a Medula Pump-In-Style breast pump valued at $279.99!!! For now, add your email address to receive The Baby Store Plus newsletter and become eligible to win prizes during the event!
September will be a wonderful event month!!
**Another announcement for everyone**
I just added the retweet button on my blog so, you can use that when tweeting about a post or giveaway OR Use the code I provide within the giveaway entries! Let me know if you have any issues!